Our clients benefit from a wealth of experience garnered through years of work in taxation,
accounting, auditing and advisory engagements.
As a boutique licensed accounting, auditing and consulting firm, we are proud to share our wealth of experience across the private, public and social sectors to help all organisations thrive and prosper. From start-ups to multinationals, we partner with our clients to deliver services which exceed expectations, boost their organisations and build enduring capabilities. 
Professional Members in our team. Exuberantly working hand-in-hand with our clients.
Combined years of experience. Always seaking to learn and improve our skills.
Customers in the last four years from various disciplines and from all around the globe.
Engagements. From start-ups to multinationals. Carried out using Cloud technology.
Hours of hard work dedicated towards successfully achiving our clients' goals and objectives.
Borg Galea is licensed by the MFSA and the Maltese Accountancy Board to provide accountancy and auditing services.
We work hard
in all fields
We are proud to provide a vast range of financial and business advisory services to local and foreign individuals and businesses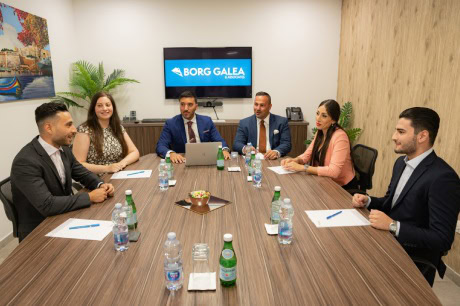 Accounting
Our accountants are proud to assist you and your business by keeping your accounting data up to date and in line with all the regulatory compliance.
Audit
A vast range of audit services covering various industries bringing to you our international experience to exceed the market regulations and standards
Company Formation
At Borg Galea we can provide you with various options and possible tax efficient structures to give shape to your business in a transparent and cost effective manner.
Tax
Tax evasion is unethical and illegal! But, we can offer taxation avoidance advise to minimise the tax liability in an ethical and legal approach to help reduce your taxation burden.
Payroll Services
If you are an employer we can assist you by having part or the entire payroll function outsourced. ​
Relocation to Malta
Speak to us so we can guide your firm in saving hundreds of thousands of Euro in taxation.